Domain investors tend to tackle many different subjects, multitasking throughout the workweek.
In essence, every domain name that we register or acquire is tacked onto an idea, a project, a venture, or all of the above. As time passes by, it's human nature to forget things.
It's not uncommon to stare at domains in one's own portfolio, and the keywords look unfamiliar. "Why did I register this domain name?", you might ask yourself. Is it what I think it is, and how much did I spend on this one, now that an offer arrived?
These are important questions related to the valuation of your domain portfolio at any given moment. When that offer arrives, you'd better be certain your quote represents a positive ROI. That means, you should be able to assess quickly the purpose of your domain asset and its associated cost, and evaluate its worth.
There are times when the domain is in a non-English language, a keyword that means something in French, German, Italian, or another language we don't speak, but which we verified its validity at the time of the registration or acquisition. As time passes by, we lose that connection due to the sheer volume of domain names in our portfolio. Even with a few hundred domains it's not always possible to recall every purpose or cost, so imagine when you manage thousands!
No worries, there's a feature that I call the Uniregistry Notes to keep your ideas, thoughts, pricing and other terms organized. It's a dedicated segment of a domain's profile in your portfolio, and part of the Uni Market.
To find that segment, click on a particular domain and scroll below the Parking Data and Parking Settings sections. To add a note, simply click on the section, and start typing away: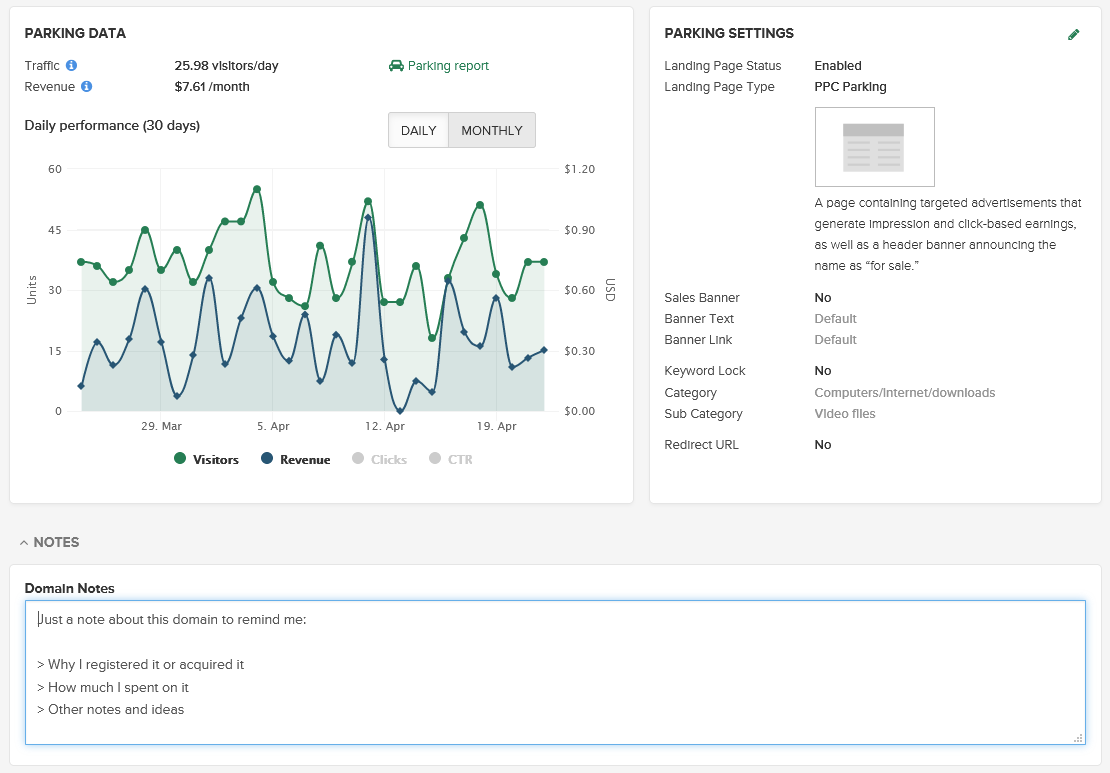 What can you add there?
Pretty much anything! In the example above, I entered a headline and some "bullet" points about information I want to include within the domain's profile. Such details might include the purpose of its registration or acquisition, the cost, and other notes that are at risk of slipping my aging mind.
To save your newly entered notes, move your cursor away from the window and click outside of the Domain Notes section. To edit your note, or to add more to it, click on it once again. No need to click on a "Save" button—it's that simple!
There's no doubt that you can add notes in a separate document somewhere on your computer but the Uniregistry Notes provide you with instant access to the digital scribbles associated with your domain name, exactly when you peruse that domain in your portfolio.
After all, we're here to make your life easier and more efficient.
The information contained in this blog is provided for general informational purposes about domains. It is not specific advice tailored to your situation and should not be treated as such

.