A domain name can contain 64 characters total, but none of those can be '&' or '+'; this is a bit of a domain branding issue for companies who use them in visual branding. The result? It creates confusion during the logo-to-domain conversion, inconsistency when seen together, and even bigger problems when spoken.
What's the big deal if I call my online company This & That and use the domain name ThisNThat.bike? Clarity, mainly. Lack of consistency and creating friction/confusion for potential clients are the main issues since your brand name will not match your domain name.
The less friction and fewer inconsistencies your brand has, the better!
This & That is cool-looking. This&That.com cannot be a domain name though, due to the invalid ampersand character. In a perfect world, you want your your branding to match your domain name exactly. Uniregistry is the brand. Uniregistry.com is the domain. Consistent. No friction. No guessing. Seeing one version makes the other—as a domain name—appear natural.
This And That is less attractive visually, but ThisAndThat.com can be a valid domain name. Seeing a pretty logo with This & That next to thisandthat.com doesn't resonate at first glance. Even if capitalizing the keywords helps (ThisAndThat.com), it's still not the perfect marriage of the frictionless combination because swapping the ampersand for "and" is a distraction and lacks consistency. Is it the end of the world? No, but could it be an issue for email, linking, and word of mouth? Yes, and it would get worse with time.
Lately I have been seeing several branding trends that contain invalid characters in a domain. Companies are adding "+" to their branding terms. Beautiful to look at, not so beautiful when converted to a domain name. Plus, many of the brands doing this are only-online. That's a problem. What could be a precise branding instrument instead becomes a screaming, off-course missile against the "radio test" (word of mouth) because that "+" now sounds like the word plus. If the brand owners do not have their ducks in a row, this can become a big problem. More so with an ampersand than a plus, unless the plus is intended to be seen as "and". That+This looks better than ThatPlusThis.com.
Disney+ is cool looking, and typing in Disney+.com sends you to a blank page or to a web browser default page, which is often a search engine. Brands want web traffic to go directly to them because that creates less competition and confusion.
When the average human brain sees Disney+, that doesn't come without friction to convert it to a valid domain name, DisneyPlus.com. The difference needs to be expressed, presented, and known that the domain DisneyPlus.com is a thing.
Disney is heavily promoting its online streaming service right now, and due to its massive size and various offerings, using the DisneyPlus.com domain name is the most direct way to bring in interested parties. Their decision on the "+" for their visual branding will hurt some, and does create some friction because the user needs to convert "+" to the term "plus" in the domain in many cases. Just for reference, here is a tweet they wrote which highlights the issue. This also affects the social media handle.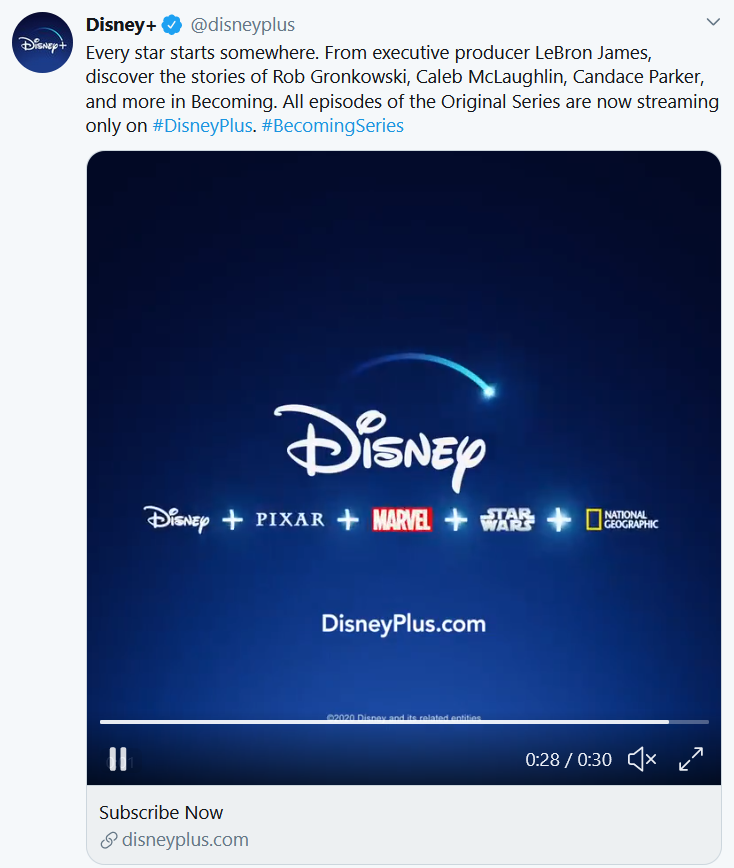 I was inspired to write this article because I was looking at a short list of direct-to-consumer brands today; some of the most important brand names of most e-commerce brands. While looking at the list and moving just between A and B, I ran into 5 brands that used a combination of This & That, This + That and This+ for their branding. Most of the ones using ampersands chose to use "and" as the replacement in their domain (a good replacement), but it still presents a branding inconsistency nonetheless because this online brand uses a character that would be invalid in a domain name.
At times, brands will drop the ampersand from the domain's brand completely and just slam two keywords together. Don't do that. I have also seen the letter "n" to replace the ampersand, which is also not a great option or choice to complete the domain.
I would suggest using and in your domain name if you use & in your branding, but I would also suggest to put some effort into expressing the difference in the domain from your logo/branding.
Overall, I personally would skip fancy and potentially invalid characters in a domain name altogether and go with something that is unforgettable and unmistakable.
The more consistent your brand name can be by exactly matching your domain name when seen or heard, the better.
The information contained in this blog is provided for general informational purposes about domains. It is not specific advice tailored to your situation and should not be treated as such

.