Trust is the biggest factor the online world faces every day. This is often overcome with branding, branding, and more branding. Along with time, effort, and money also playing factors.
Companies make branding choices all the time. As products and services will often be added on to the business offering, sub-brands are created and so much more. These offerings can reflect new brand names, add-on branding, and almost endless situations.
All of them matter though and it's super important to get the click you deserve but there are things that can hold people back.
Today, I would like to present you with an actual advertisement or as Facebook displays the ad as, "Sponsored".
"Would you click on this ad?" is the question.
My first impression is that the ad attempts to ease the concerns of making a decision to click.
We have a blue checkmark next to a yelling brand name XTRATUF which I have never seen nor heard of in my entire life. I thought the checkmark was a Twitter thing, but maybe it's a Facebook thing as well? I'll consider this blue checkmark questionable at best since this is an advertisement on Facebook.
The Honeywell name is the biggest of any brand name used in the image but what sticks out at me most is the page the ad is on. XTRATUF a branding play on "Extra Tuff" but it has a cheap look to me. All caps makes it hard to read and really just looks like a jumble of letters.
Although the Honeywell wording is used in the description "Honeywell Dual-Layer Face Cover…" and used twice in the image, everything is housed on XTRATUF.COM and that is what matters to me because when I click, that is where I'm headed. XTRATUF.COM scared me away from clicking and failed my test this time around.
This doesn't come across as a trusting brand for me. XTRATUF just doesn't have a "real business feel" to me. Not one like Honeywell does and it makes me question if XTRATUF is making a play on words to "appear" like Honeywell and using that trusted brand name in a way to push a product that isn't really related to Honeywell at all. If the domain was Masks.com or Honeywell.com or something similar, like HoneywellMask.com, my chances of clicking would have been much higher!
I didn't click but was interested. I scrolled on past.
Since I work with domain names, it got me thinking, maybe that was real but I also wouldn't be shocked to see the XTRATUF.com domain name was registered this morning. I headed over to WHOIS to see when the domain name was registered and if any clues would actually show me who owned the domain name.
XTRATUF.com was registered on November 4, 2009, at a large brand protection registrar and owned by a company called Honeywell International Inc. Yep, that Honeywell.
This WHOIS information would have sealed my click before but the ad doesn't in any way give me this information when my brain needed it to feel safe to click.
The XTRATUF brand name didn't ring a bell, nor did it give me the impression I needed to click. It still doesn't really but it is owned by the actual Honeywell brand.
XTRATUF is owned by Honeywell and normally sells boots under that brand name, and it appears the Honeywell PPE / masks are an additional new extension of the brand, combining the Honeywell brand with the XTRATUF boot branding.
Honeywell makes other masks branded as Honeywell, so I am not sure why they shied away from using their much better-known brand name to advertise these masks. But doing so failed for me. Cross-promoting the new PPE offerings would likely be more acceptable; instead of using an ad with XTRATUF branding, they could have promoted a Honeywell-branded mask.
Their ad failing me had to do with trust, some confusion due to combined branding, and the uncertainty built into the domain. It wasn't clear if the domain name was owned by Honeywell or not!
Interestingly, later that evening while on mobile, I was presented a very similar ad. The mask image grabbed my eye instantly, only to see yet another brand name promoting the Honeywell mask this time: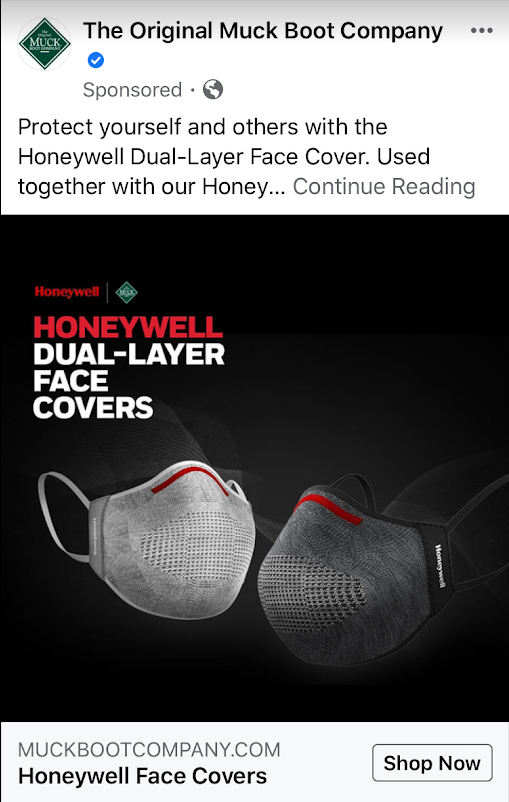 This time its Muck boots promoting the mask? MuckBootCompany.com to be specific, and for me, it just added to the confusion as to why Honeywell is using boot brands to promote dual-layer Honeywell-branded face covers.
Back to WHOIS to see if Honeywell happens to own the Muck branded boot company; and yes, Honeywell International Inc. does in fact own it. Confusing at best and unless the consumer is aware that Honeywell owns XTRATUF and Muck Boot Company, I would expect these advertising efforts to be less effective than using Honeywell.com or HoneywellMasks.com for example.
Domain names are really just part of a branding package but can be a big part because that is where the user will end up when clicking. The whole package matters really!
Branding played a roll and since I wasn't aware of either smaller brands that Honeywell owned, it caused me not to click nor buy. In my case I used WHOIS to make connections of ownership but that is certainly not what a company wants to rely on. Branding is and in an advertising campaign like the above, the Honeywell branding would be more effective for me and a better "big brand" aligned domain or generic domain to what was being offered since I wasn't aware of the other brands and that Honeywell owned them. The Honeywell name within the advertisement made me feel good but it also raised red flags because I wasn't familiar with XTRATUF and Muck Boot Company being owned by Honeywell. The product connection (boots and masks) wasn't aligned either, so the alignment of the ad and landing destination (domain) prevented my click.
The information contained in this blog is provided for informational purposes only and should not be construed as an endorsement, advice, or opinions from Uniregistry on any subject matter.